Bacchus Marsh's premier Concreters
Whether you need help with residential or commercial concrete projects, rest assured that our Bacchus Marsh Concerts  team have you covered!
Based out of Bacchus Marsh, Bacchus Marsh Concreters has extensive experience and the resources to provide residential and commercial concreting services throughout Bacchus Marsh and nearby suburbs. Over the years, we have delivered a broad range of projects, making us one of the leading Concreters in the area. .
We have a team of professional concreters who are supported with the latest in concrete technologies. Our experience helps us to make sure of the utmost and detailed quality for every project that we undertake. For years, we have been the concreters Bacchus Marsh residents turn to for providing the highest quality concreting services for residential and commercial requirements.
When it comes to constructing stunning concrete driveways, footpaths, concrete slabs for entertaining areas, and other concrete-related services, you can always count on us.
Why Bacchus Marsh Concreters?
As our customer, you benefit from our high-quality concrete services, which include –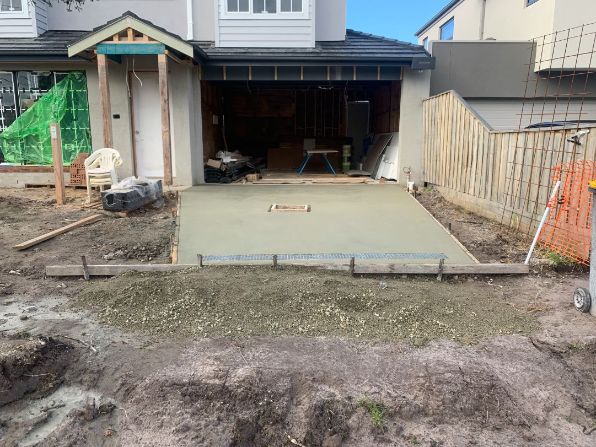 Our team at Bacchus Marsh Concreters can handle residential and commercial jobs with ease. With our wide range of concrete solutions, we brand our services more as a craft rather than a trade. The same is reflected in our consistent customer satisfaction and the endless referrals we receive.
Our concreting services include, but are not limited to –
The exterior of your home or office is as important as the interiors. Your driveway tells more about your home than what meets the eye. Transform your driveways with our professional team of concreters who are sure to provide you with excellent workmanship and a great finish.
Crossover driveways are built to provide vehicular access to your property. Our team can design and build a concrete crossover driveway that suits the terrain of your property as well as take care of the permit requirements for you. We get it right from the outset and ensure it complies to council regulations.
Decorative concrete is created by removing the uppermost layer of cement and exposing the underlying aggregate. Ideal for driveways, pathways, patios, and pool decks, we elevate your living space and provide your home a 'wow' factor that will handle everything your family throws at it.
Residential Concreting Services
Do you want to lay down a concrete foundation for your parking space? Do you want to build a retaining wall on your property? We have you covered.
You deserve a home designed to be the way you want, including your concrete features. From house foundations through to polished concrete floors, driveways, and decorative features, our team at Bacchus Marsh Concreters can do it all. As our customer, you will benefit from the expertise of a company that works smart and fast. We help save you time and money while providing you with the best finish possible. Our team uses the best equipment, materials, and work practices to get the job done cost-effectively, efficiently, and with minimal disruption to your life.
Our residential Bacchus Marsh concrete services do not start and end with driveways. At Bacchus Marsh Concreters, we can help you with a large number of concrete projects around your home. Whether it is creating a backyard entertainment area, laying down a brand-new garage slab, or new footing for your extension, we can help. If it involves concrete, we have the team to help you get the job done.
Commercial Concreting Services Bacchus Marsh
The cornerstone of any concrete project is durability. It is especially true for commercial spaces that experience a higher volume of traffic and experience more wear and tear compared to concrete surfaces in residential properties. When you are looking for a team of concreters to oversee your commercial concreting project, look no further than Bacchus Marsh Concreters. We have been in the business for years and ensure you get the very best when you hire us.
We take our work seriously and offer business owners with the finest quality materials and the most advanced installation techniques to ensure your investment lasts for years to come. Our main strength is our ability to communicate our capabilities, inclusions, and exclusions to ensure all parties are aware of their responsibilities. We work with the specifications offered by the engineer to ensure we deliver the highest quality commercial concreting job. We can also help from the planning up to the execution process to make your vision into reality.
Our professional, licensed and experienced concrete work can easily be found in many commercial properties across our service area, including –
There are no concreting services that are too large or small for us. We enjoy an excellent reputation among business owners in the area because of our perfect execution, attention to detail, and excellent customer service. Our commercial Bacchus Marsh Concreters can handle everything professionally and ensure our high standards are maintained throughout the work.
Different Types of Concrete Finishes
Pouring concrete into forms is just the first step to getting a job well done. To finish the project right, you need to make sure to pick the right finish. There are quite a lot of options out there for you to choose from that will look great and even perform well.
Here are some of the most popular concrete finishes we offer for residential projects –
Polished concrete is superior, low maintenance, and offers great value to homeowners. A polished finish provides a smooth and high-lustre finish that resembles polished stone yet will never need waxing.
Colour can be added to concrete to allow it to match the surrounding architecture. The colored finish of concrete is achieved through mix-added pigments or post-cure staining.
Commonly referred to as imprinted or textured concrete, stamped concrete is designed to resemble stone, tile, slate, and even wood. If you already have concrete in place, we can also resurface it with a stampable concrete overlay.
Using stencil finish allows you to add attractive but economical texture and colour to concrete surfaces. With hundreds of different patterns available, we can create custom stencils to give you a look you always wanted.
It is a new innovative design that is achieved by saw cutting concrete in straight line squares or in two pattern diamonds. It gives the concrete a paver-type look but without the problem of having weeds grow between pavers. No other flooring material offers you this array of design finishes and opportunities to create a custom look. We can help you decide what Bacchus Marsh concrete finish is best for your project.
Work with Bacchus Marsh Concreters
We are here to help with any residential or commercial Bacchus Marsh concrete services. We understand that whether it is your home or commercial space, every dollar you put into your property is important, and we aim to provide the highest quality concreting services for every project we work on.
We take the time to understand the job, including a free site visit and quotation, to ensure that the quote we offer is accurate for the concreting work required. We take pride in ensuring transparent and complete communication to ensure you know when the work will commence, how it is progressing, and when it will be completed.
Bacchus Marsh Concreters deliver concreting services in Bacchus Marsh and the wider part of the region –
If you are located outside of our service area and are unsure if we can help you, get in touch with us today!
Choose Professional Concreters Bacchus Marsh Knows and Trusts!
Bacchus Marsh Concreters is your one-stop-shop for your residential and commercial concreting services. We have the expertise and the experience it takes to get the job done right the first time. Our focus is on providing you with the best concreting services and creating a memorable experience when using our services for your project.
If you are ready for a quote, get in touch with us today at (03) 9118 0641 or email your queries to [email protected]. We value every inquiry, and you will not have to chase us down!
Concrete Driveways Bacchus Marsh
Does your driveway need updating? Are you building a new home? No matter the reason, if you are shopping for a new driveway, it is critical to know all your options and determine which one is perfect for your needs and your property. Here at Bacchus Marsh Concreters, we offer top concrete driveways services and are known for excellence and aesthetic perfection.
There is nothing more beautiful than a freshly poured driveway for you to pull up to when you come home from work or after an outing with your family. It is the reason why we combine high-quality materials along with superb workmanship to ensure your concrete driveway will last for years to come.
Is It Time To Replace Your Old Concrete Driveway?
A concrete driveway can last for several decades, but that doesn't mean they'll last forever. With time, the driveway will suffer wear and tear and start looking dull because of the weather and use. Eventually, your driveway is going to degrade. Here are some of the top signs that you may need a new driveway –
Small cracks on your driveway are repairable, but deep cracks are a sign of serious damage. If you see several cracks on your driveway, it is best to have your driveway replaced.
The sun beating down on your driveway will force it to fade over time. You may think that the damage is cosmetic, but it can also weaken your driveway's structural integrity.
Potholes not only look ugly, but they can also cause damage to your car. Again, small potholes can be repaired, but bigger potholes will continue to get deeper and wider.
If your driveway is decades old, it might be time to replace it. Even if your driveway does not show signs of wear, there is a point when its life comes to an end.
When you start noticing pools of water on your driveway, it indicates a problem with its structure. Pools of water will further deteriorate your driveway and need to be replaced at the earliest.
If you are unsure if you need a new driveway, schedule an appointment with our concrete driveway expert. We would be happy to assess your driveway and driveway to see if they can be repaired or if you are better off with a new one.
The Many Benefits of a Concrete Driveway
A failing driveway is full of potholes, cracks and can negatively affect the curb appeal of your house. They can also be a safety hazard if you have children and elderly family members living with you. When you notice problems in your driveway, you might only consider the cost of having it replaced and not the problems it is causing.
Here are some of the top benefits of having a new concrete driveway installed –
Choose the Perfect Concrete Style for Your Home
Concrete driveway installation is best left to professionals. By hiring our Concreters Bacchus Marsh, you can expect to receive the best possible service. Our experts will help you find the perfect concrete solution for your project. Concrete driveways are our specialty, and we are ready to work with you to create the perfect driveway for your property.
Give us a call today to receive a free, no-obligation quote. Shop around in Bacchus Marsh, so you know we offer the best deal in the area.
When you are in need of a practical yet resilient surface that looks stylish and modern, exposed aggregate can be  a great option for your home or commercial property. Driveways, paths, pool surrounds – all these are areas where looks and performance are crucial. Exposed aggregate is a timeless product that performs for a lifetime without needing a lifetime of maintenance. Made by exposing the aggregate or stones in the concrete, it looks exceptional and is slip-resistant, making it perfect for every outdoor landscape.
Bacchus Marsh Concreters is one of the top exposed aggregate service providers because of our expert skills, immaculate customer service, and highly competitive prices. Our team has years of experience in high-end exposed aggregate finishes. We are confident that we have the best techniques in Bacchus Marsh and nearby areas.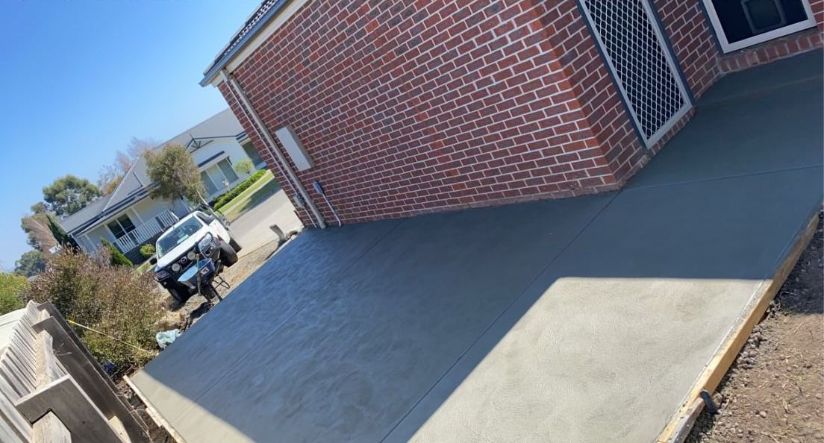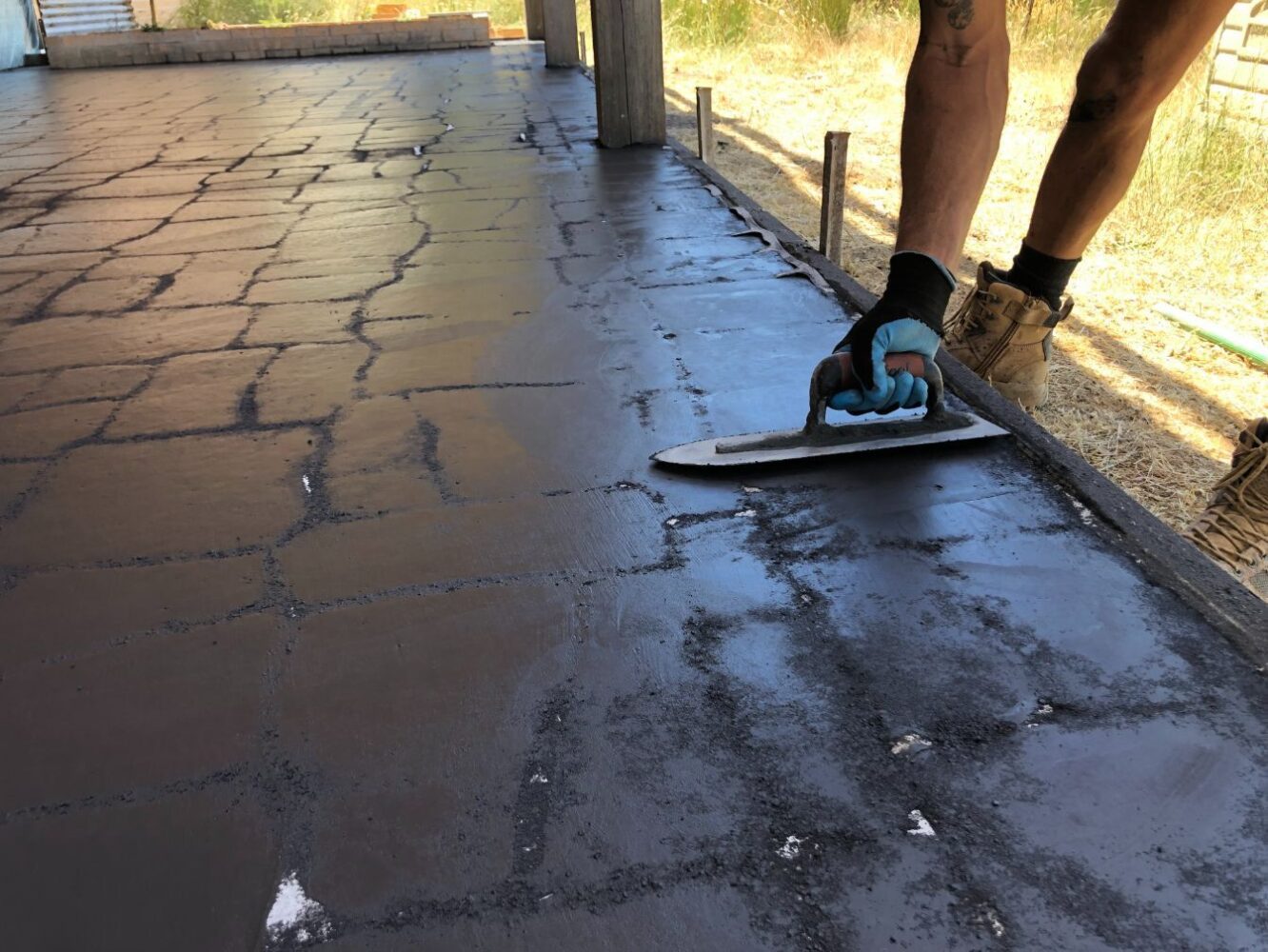 What is Exposed Aggregate?
While all concrete contains aggregate mixture including pebbles, stones, and granite, they stay hidden under the topmost layer of the cement. With exposed aggregate, an array of stones and pebbles are added to the mix, and the top layer is deliberately washed off to reveal the aggregate mixture, which creates a unique and decorative texture.
Exposed aggregate is tough, durable, and strong and can be used virtually anywhere. It is particularly popular for driveways, patios, pathways, and pool areas. Since it is a non-slippery surface, it is perfect for areas that might get wet and become a slipping hazard.
Types of Exposed Aggregate
There are a number of decorative finishes we can help you achieve with exposed aggregate. To help you achieve a decorative look for your concrete in the driveway, pathway, or any other area, we offer a wide range of mixing solutions to ensure they lend a premium look to your property. They are available in a range of colours, including black, grey, gold, tan, white, mid-brown, and variegated hues. Our experts add integral colours with different levels of exposure of the aggregate to give your flooring a vibrant finish.
Using our exposed aggregate, you can transform an old and dull-looking surface into something truly attractive. No matter what colour and finish exposed aggregate concrete you are looking for, you can rely on our exposed aggregate Bacchus Marsh experts to provide you with the best options available in the market. We bring the latest styles and innovations to the exposed aggregate industry in Bacchus Marsh.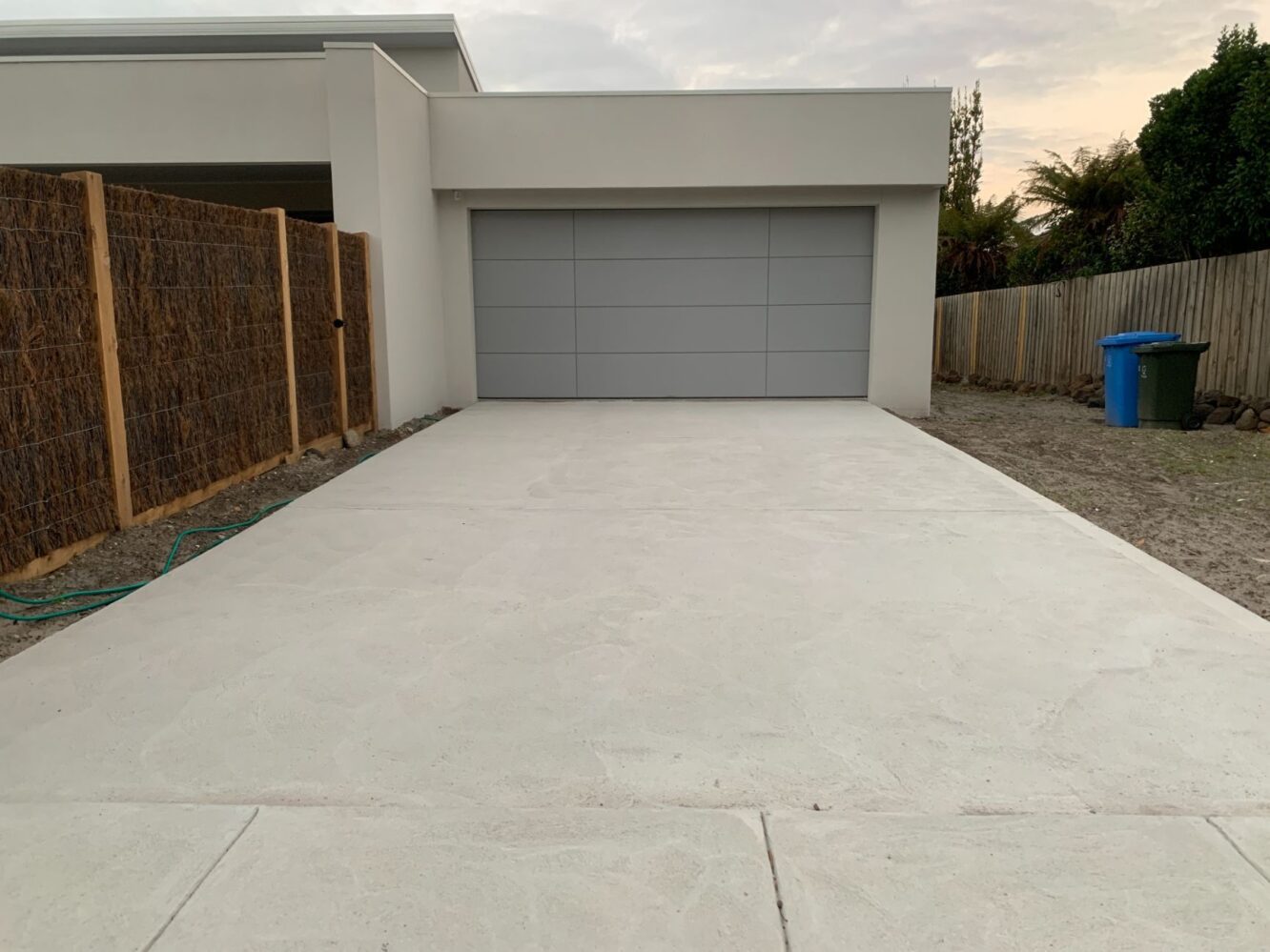 Benefits of Exposed Aggregate Concrete
Exposed aggregate is much more than just style and beauty. It also offers the following benefits –
Our knowledgeable experts can help determine if exposed aggregate concrete is the right fit for your property.
Custom Exposed Aggregate in Bacchus Marsh
Do you want to create appealing and durable exposed aggregate concrete driveways Bacchus Marsh? Reach out to our team to discuss your requirements with us and help you pick the best mix and style of aggregate for your property. We're confident we can provide you with a great driveway that will last for years to come.